The Ireland rugby team will be playing the world champions New Zealand in the United States, it has been announced.
The Boys In Green will meet the All Blacks in Chicago's Soldier Field, the home of the Chicago Bears and the oldest NFL stadium in the USA. It is thought that the popularity of both Ireland and the All Blacks will ensure a sell-out for the 2016 clash.
In November 2014 Soldier Field held its first ever rugby game when the USA played host to New Zealand in front of a capacity 61,000 strong crowd.
The Irish rugby team, which is an all island side with players from both the Republic and Northern Ireland, have never beaten the All Blacks in 28 attempts dating back to 1905.
New Zealand have long sought to exploit their commercial appeal in the untapped market of the sports mad USA. Ireland represent the perfect opposition for the tie in the Windy City as their participation will attract the Irish diaspora and those Americans with a proud Irish heritage, while they are also one of the stronger world rugby nations and are the reigning Six Nations champions.
Irish Shop: Wear Your Colours With Pride With Our Irish Clothing Range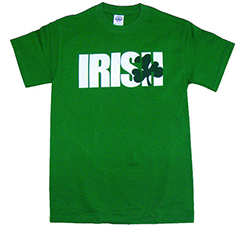 The duo didn't meet during the recent World Cup, where Ireland scored memorable victories over France, Italy, and Canada before ultimately losing in the Quarter Final to Argentina. New Zealand won the competition to claim their second World Cup crown.
Ireland are considered a first tier team by the rugby authorities. This means they are considered one of the strongest in the world. For such a small population the national side performs well above its station, while the provinces of Leinster and Munster have both won the European Cup in recent years.
Indeed, the game at Croke Park between Leinster and Munster in 2009 boasts the world record attendance for a rugby union club tie with over 82,000 present for the event.
The Irish fans, famed for their renditions of The Fields of Athenry at every game, are sure to be out in force for the game in Chicago. The ballad laments the famine and those who had to depart Ireland for foreign shores to survive. It will be particularly poignant when Ireland's famous support belts it out at the top of their lungs in Soldier Field.
Irish Shop: Get Personalized Irish Jewelry And Clothing
Will you be joining the boisterous Irish support in Chicago against the world's finest team? If you're planning on attending, why not wear your colours with pride with one of our many great Irish T-Shirts?
We stock many items perfect for those who like to show their heritage with pride, from t-shirts to scarves and gloves, hats and jackets, Irish jewelry and much more!