The Summer Olympic Games begin in Tokyo this weekend, and even for those who are not sports fans, the sheer spectacle of this event, when it takes place every four, or in this case, five, years is something to behold. In Ireland, there will be many cheering on Team Ireland, and in towns and villages around the country, probably friends, family and neighbors. In a country this size, it is likely you know someone who is related to an Olympic athlete, making it much more personal. 
Our Proud Heritage
As a nation we usually take great pride in the performances of our sportswomen and sportsmen. Countries like the USA and Australia will probably win more gold medals in a day than Ireland has won in its entire history. Of course, when the modern games were first stage, Ireland wasn't even an independent country, so many of Ireland's victories were recorded as British from 1896-1924, while others had to emigrate from Ireland and found success elsewhere.
Even now, you don't have to look far to see the influence of Irish heritage. This year alone, Team USA will have at least 1 Murphy, Kelly, Duffy and Ryan. Great Britain's team includes a Walsh and McCormack and O'Brien, Coghlan and McHugh will wear the green and gold for Australia. A few Irish names are sure to be found on the podium at every games, just as they have been going back to the first modern Olympics in Greece.
With the athletic prowess of Cuchulainn and the strength of Fionn MacCumhaill the Irish Whales were a group of athletes who dominated the throwing events at the Olympic Games either side of the first world war. Though they were born in Ireland, they competed for the countries they emigrated to, namely the USA and Canada, and were all part of the Irish American Athletics Club based in New York. Their nickname was given a result of their great appetites and stature, but there was no doubt about their ability. Between 1900 and 1924 Simon Gillis, Pat McDonald, Matt McGrath,  James Mitchell, Paddy Ryan, Martin Sheridan and Con Walsh won a total of 23 Olympic medals. Their haul of 10 medals at the 1908 games, was more than the combined totals of France, Germany and Italy! Back then, Ireland could not compete as an independent nation, but they paved the way for Irish Free State's first gold medalist, Pat O'Callaghan who flew the tricolor for Ireland in 1928 and 1932. 
Did You Know?
It wasn't just power and passion that brought pride to the country. Medals for various artistic pursuits were awarded until 1948. Artist Jack Butler Yeats (brother of Nobel Prize winning author and poet William Butler Yeats)  won the Irish Free State's first medal of any color in 1924 when his painting depicting the annual swimming race in Dublin's River Liffey won a silver medal in 1924. This painting, The Liffey Swim, is now iconic in Ireland, and can be seen in the National Gallery of Ireland.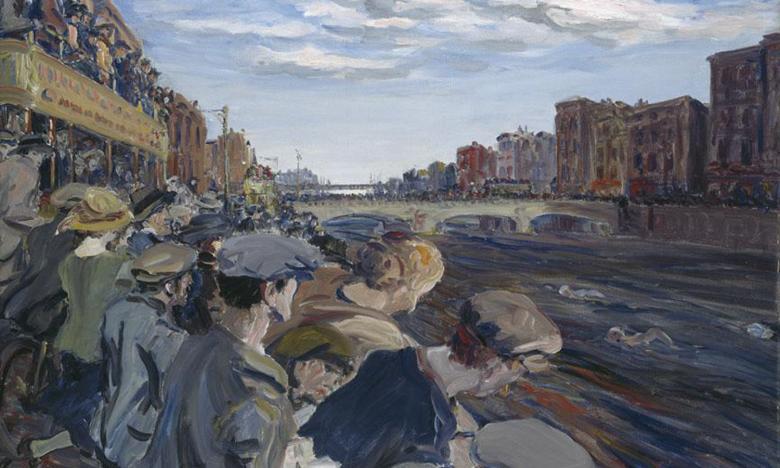 If you've ever visited Dublin's Temple Bar area, you may have been attracted to a pub named The Oliver St. John Gogarty by the lure of traditional music and scent of Guinness coming from its doors. It is named for one of Ireland's writers, who, though a prolific sportsman himself, also won an Olympic medal for literature taking bronze in 1924. 
The Olympics in Dublin?
Incredible as it may seem, Dublin has twice considered hosting the Olympic Games. It was mentioned as a potential host for the 1936 event, which ultimately went to Berlin. The idea was revived again in the mid-90s, when Dublin's Lord Mayor again suggested the idea and a committee was formed to examine the feasibility. Given the exceptional costs and small population, it was seen as little more than a dream, but imagine what it would be like. Croke Park, Dublin's famous GAA venue, as the Olympic Stadium. Historic places like Trinity College might host archery, while beach volleyball would take place in view of the James Joyce Tower on Sandymount Strand. It wouldn't just be Dublin, the entire country would be involved. Maybe we'd see big waves being surfed near the Cliffs of Moher and cycling around the Ring of Kerry. 
People of Irish heritage would come from all over the world to watch, and visit the land of their ancestors while the Irish would be only too willing to offer the traditional Céad Mile Fáilte and a pint of Guinness. The craic would be mighty and it would certainly be the biggest family reunion the world has ever seen. Let's make it happen.  
Who To Look Out For in 2021
If you want to support the boys and girls from the Emerald Isle this year, who are the best medal prospects you can look out for? In Rowing, world champions Paul O'Donovan and Fintan McCarthy are strong favorites for their event, while another medal on the water could come from 2016 silver medalist Annalise Murphy in Sailing. Ireland will be represented on the golf course by two major winners in golf; Rory McIlroy and Shane Lowry. Traditionally Boxing is where our hopes for multiple medals lie, and Kellie Harrington will be hoping to emulate Katie Taylor's 2012 gold medal performance. Rhys McClenaghan's spectacular routines could bring home a first ever gymnastics medal. On the track keep an eye on Thomas Barr in 400m Hurdles and the mixed 4 x 400m relay squad who could spring surprises, while in Modern Pentathlon Natalya Coyle is a contender for a podium spot too. 
The squad for this games is the largest ever, in part due to qualifying some teams. Irish rugby jerseys will grace the Olympics for the first time when in the men's Rugby Sevens and the women's Hockey team will want to go one better than they did when they shocked the world when they took silver at the 2018 world championships. 
If sports aren't your thing, and instead you're going to be a "sport widow" while he sits on the sofa watching for the next few weeks, why not tell him you want some Olympic rings of your own. IrishShop.com has a great selection of gold or silver rings. 
Whether you are showing your support, or have kids or grandkids that have Olympic ambitions themselves, we have a range of Irish jerseys and sweatshirts that are practical and comfortable for working out, or great for just cheering on your favorite team or athlete, while showing your Irish pride any time.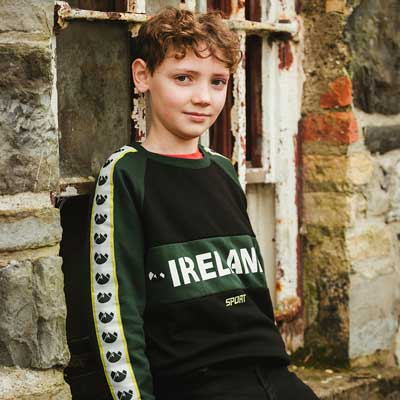 Let's hope that we see the Irish flag and hear the national anthem plenty in Tokyo.