Ireland is romance. From cozy pints by the fire in a rural pub to walks along the rugged coastline to ruined castles surrounded by snowdrops and crocus, February in Ireland has its own special romantic style. The weather is changeable. Those early spring flowers could be covered in snow one day and showered in sunshine the next. That makes it the perfect time to curl up with someone special and maybe read some of the epic love stories in Celtic mythology.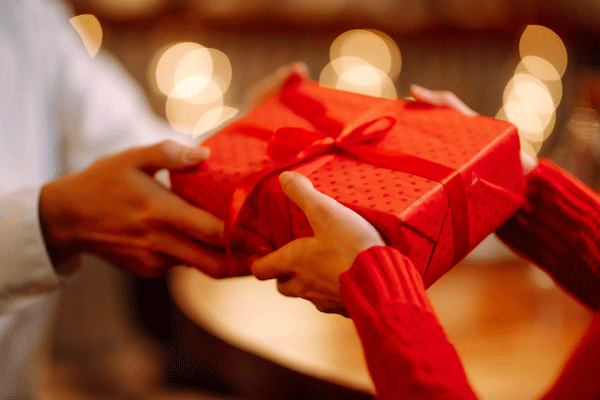 Valentine's Day is one of the most popular days of the year to propose. For others, whether their relationship is new and uncertain or whether they've been married for decades, it's simply a traditional time to let their special someone know how they feel. The romantic symbolism of Irish gifts makes them a perfect way to express your feelings.

Irish Jewelry for St. Valentine's Day
If you are looking for a gift that expresses your love without resembling an engagement ring, you are spoilt for choice when it comes to Celtic jewelry. Rich in romantic symbolism, these pieces are perfect for her.
Birthstone Jewelry – A pretty pendant featuring an iconic Irish design and your beloved's birthstone is sure to be treasured. Take it step further with a silver pendant with their name in the ancient Ogham script and their birthstone.

Claddagh Jewelry – A Claddagh ring with a gem does make a stunning engagement ring, but you can express your love, friendship and loyalty with a necklace or a simple silver or gold ring without a gemstone.

Trinity Knot Jewelry – Celtic knots are deeply romantic because they have no beginning or end, thus symbolizing eternity. The three loops of the trinity knot have many interpretations, including the past, present and future. It's a beautiful way to say how much your treasure your shared past, enjoy the present and look forward to a future together.

Special Irish Gifts for Him
All of that beautiful Celtic symbolism is also available on elegant, masculine Irish gifts too. Celtic warriors wore jewelry to show their status in the group, and Irish men today continue to sport distinctive jewelry.
Pocket Watch – A pewter pocket watch with the moving symbolism of the Claddagh elegantly tells him how much you enjoy spending your time with him. You can also choose a Celtic knot design, referring to eternity.

Men's Necklace – He can also wear a Claddagh as a necklace. A bold ingot pendant with a Celtic weave design is something he'll want to wear everywhere. Or if he prefers to rock a shamrock, you can give him a pendant with everyone's favorite Irish plant.

Men's Bracelet – A woven leather or silver bracelet with classic Celtic knotwork is a wonderful addition to any Irishman's wardrobe. These handsome bracelets are a nod to his heritage with a timeless style.

Irish gifts for St. Valentine's Day are a romantic way to say you appreciate your partner and their roots. And Irish jewelry is something they'll proudly wear all year.