Your relationship is beautiful and unique, and you can find a stunning Celtic wedding ring that symbolizes that. If a plain gold band doesn't speak to you, you have many other options featuring designs that reflect how you feel about each other. It can be gold, silver or even a combination of both. Your ring can say more than 'I'm married'. It can declare the depth of your commitment or the foundations of your love with an ancient Irish motif. After you've popped The Question, one of the next questions is which wedding ring is right for you? Here's an overview of some of your choices.Each motif comes in a huge variety of options from simple and elegant to extravagant.
With roots in Galway, the Claddagh is now a popular ring around the world. It was designed by a
fisherman who was abducted into servitude with a goldsmith. He became a master goldsmith himself and designed a ring for the woman he loved in his home village of the Claddagh. It featured a heart to represent love cradled in two hands symbolizing friendship with a crown above it to stand for loyalty. When he returned home after being freed, he presented the ring to his beloved and they wed. He set up a studio in Galway and began making rings. Local people began using them as wedding bands and friendship rings, and soon the Claddagh ring spread around Ireland and then the world. It's now a popular motif for Irish gifts as well as wedding rings.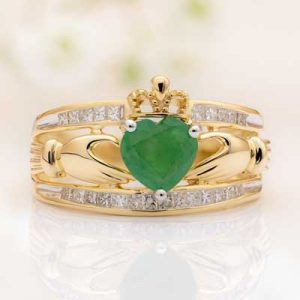 The defining quality of Celtic knots is that they are one unbroken line. The line loops and twines around itself but has no beginning or end. It represents eternity and infinity. If you both love knotwork, you have plenty of choices. The Lovers' Knot is a beautiful, rectangular design that fits perfectly onto a ring. The Trinity Knot is three loops in a triangle shape. The number three has always been important in Irish culture. It can stand for your shared past, present and future; the generations of a family; the Holy Trinity of the Father, Son and Holy Spirit, or the three stages of life, youth, adulthood and old age.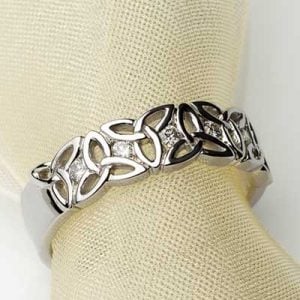 If words are your love language, you can choose Irish wedding rings that spell it out. The Irish phrase 'mo anam cara' means 'my soulmate'. It's growing in popularity and is perfect on a Celtic wedding ring. Before modern written language, our ancestors in Ireland were carving Ogham script on standing stones. Ogham is popular on many Irish gifts, but it can be a stunning touch for a wedding ring. Marriage is based on faith – faith in each other and, for some, faith in God – so an Ogham engraving of the word 'faith' is just the right touch.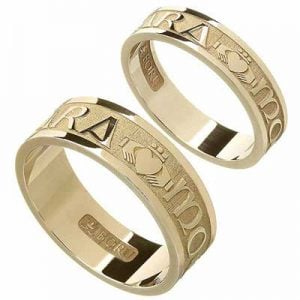 All of these motifs can found on a dazzling array of different Irish wedding bands. Whether you want silver or gold, a minimalist design or something intricate and sparkling, you can find the perfect Celtic wedding ring featuring these motifs