When it's time to raise a glass, why not raise one that reflects the beauty of Ireland? Whether you're toasting St. Patrick or a happy couple or an advance in your career, the glass can be as delightful as whatever is in it. It helps create a mood. Table settings are incredibly important in restaurants, and dishes and glassware are traditional wedding presents. Glassware and dishes also reflect cultures. When people see a sake set, they immediately think of Japan. A beer stein conjures up images of Germany. And Irish gifts such as pint glasses or crystal remind people of Ireland.
Irish Pint Glasses Create a Mood
Ireland has stunning scenery, but the wet, cool weather means we spend a lot of time inside. Hence the importance of the local pub. Like a certain television bar, the local pub is a place where everybody knows your name. (And if you were born there, they also know your parents' and grandparents' names along with a lot of other details!) The light is dim, the laughter is bright. Throughout the autumn and winter, and into the spring many years, a fire is blazing. On the counter, pints of Guinness are slowly settling in traditional, distinctive Irish pint glasses with their creamy heads floating above the dark stout. This is a drink worth savoring and sipping. The Irish might head into the pub saying 'just the one'… but that doesn't mean it will be a quick one. The conversation and craic make it hard to leave, especially if a cold wind is howling outside driving the rain down.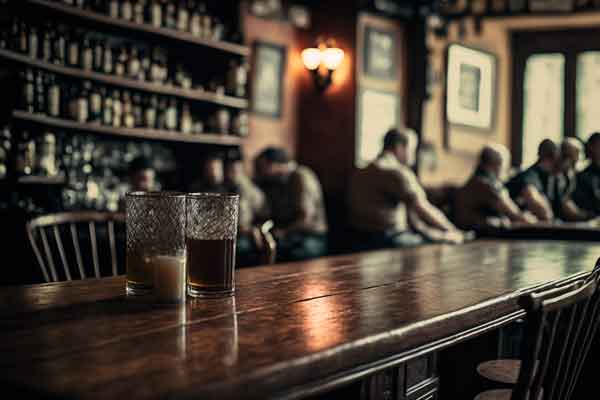 These pint glasses are perfect for a relaxed, slow drink with friends.  They make wonderful Irish gifts that tell someone you enjoy their company and appreciate time with them to swap stories and share laughs.

Add Elegance with Irish Crystal
Galway captures much of the best of Ireland. A small city with a thriving pub scene set on a beautiful bay on the rugged Atlantic coast, it's also home to one of Ireland's most beloved crystal drinkware brands. The intricate designs of classic Irish crystal glasses and vases sparkle, reflecting the light around them. They might remind you of diamonds, or of the way the sun sparkles on the waves as they curl toward the shore.
Crystal wine glasses make perfect Irish gifts, especially for weddings and anniversaries. They add romance and elegance to any meal – and they also look fantastic just sitting on a shelf in a display cabinet.

Crystal making has a long and interesting history in Ireland. It was first created in England in the 1600s. Crystal has been made in Ireland off and on since the late 1700s, which most manufacturers located along the coast. This was because they relied on imported fuel for the manufacturing process.
If you are looking for the perfect glass to raise in a toast, you can celebrate Irish culture at the same time when you choose traditional pint glasses or sparkling Irish crystal.