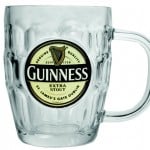 The days are getting shorter and colder, and if you are looking for something to cheer you up before the fun of Halloween/ Samhain, you're in luck.  Arthur's Day is September 26th, and it's as good an excuse as any to don a Guinness T-shirt and raise a glass or buy yourself some Guinness gifts.  You can toast the beloved brewery's founder Arthur Guinness with a pint of the black stuff he made so famous (not to mention, so delicious).  Ireland has given the world a lot in way of music and entertainment, but Guinness is probably the most popular of those Irish gifts to the world.  It is available in more than 100 countries, and Irish Americans may be surprised to hear the USA is only the fourth largest market in the world – right after Nigeria and one spot up from Cameroon.  It's less surprising to know that Great Britain and Ireland are the first and second largest markets.  You never know where in the world you might run into a fellow fan of a pint of plain sporting a Guinness hat or other accessory.
While parties will rage across Ireland with singing, dancing and a bit of drinking with revellers decked out in Guinness hats, Guinness T-shirts and other Guinness gifts, you might quietly wonder who the man whose name is now emblazed on a massive range of Irish gifts was and how he came to brew this beloved and iconic beer.  Unsurprisingly, he was the son of a brewer.  Arthur was born in 1725 to Richard and Elizabeth Guinness in County Kildare.  Richard worked for the local land owner, Dr. Arthur Price, archbishop of Cashel.  One of his jobs was to brew the beer for the staff of the estate, and it seems a safe bet that he spent plenty of time at his daddy's side learning the fine craft of brewing.  When Dr. Price passed away, his godson and namesake inherited some money, which he used to start his own brewing empire in 1759, when he signed the lease to the famous premises at St. James's Gate, Dublin, now a major tourism destination and source of Guinness gifts and lore.
So how will you celebrate Arthur's Day?  If you are in Ireland, you have loads of events on offer where you can raise a glass of Guinness.  If you are among the many around the world who embrace their Irish heritage, you might have to put on your thinking cap – or rather your Guinness hat – and get creative.  You and your friends could all head to the nearest Irish pub wearing your favorite Guinness t-shirts, or you could plan a party at home, which is a great excuse to show off your Irish gifts and souvenirs.  Having your own Guinness pint glasses would be the perfect touch.  You might decide to buy your favorite stout drinkers Guinness gifts.  Or you could just wear your Guinness hat for the day and see who noticed.
Your Ultimate Source for Everything Irish!