An Irish blessing is a gift that is appreciated by everyone, whether as a token of affection for them and their Irish heritage, or when given by you in respect for your Celtic background. We at IrishShop collect the best known and lesser known Irish blessings, toasts, prayers and sayings and gather them here for you.
If misforutune should ever follow you may it never catch up
May the luck of the Irish possess you.
May the devil fly off with your worries.
May God bless you forever and ever.
May God be with you & bless you
May you see your children's children
May you be poor in misfortune
but rich in blessings
May you know nothing but happiness
From this day forward
May the raindrops fall lightly on your brow.
May the soft winds freshen your spirit.
May the sunshine brighten your heart.
May the burdens of the day rest lightly upon you
And bay God enfold you in the mantle of His love.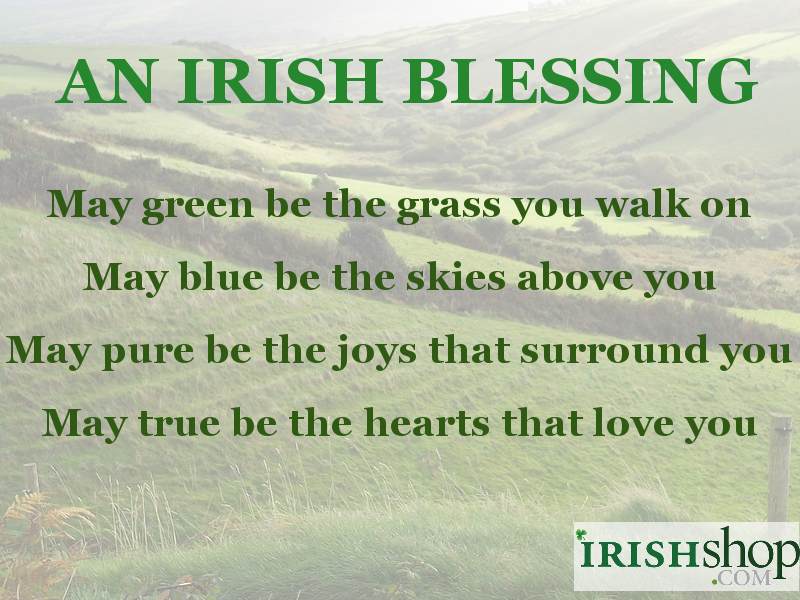 May green be the grass you walk on
May blue be the skies above you
May pure be the joys that surround you
May true be the hearts that love you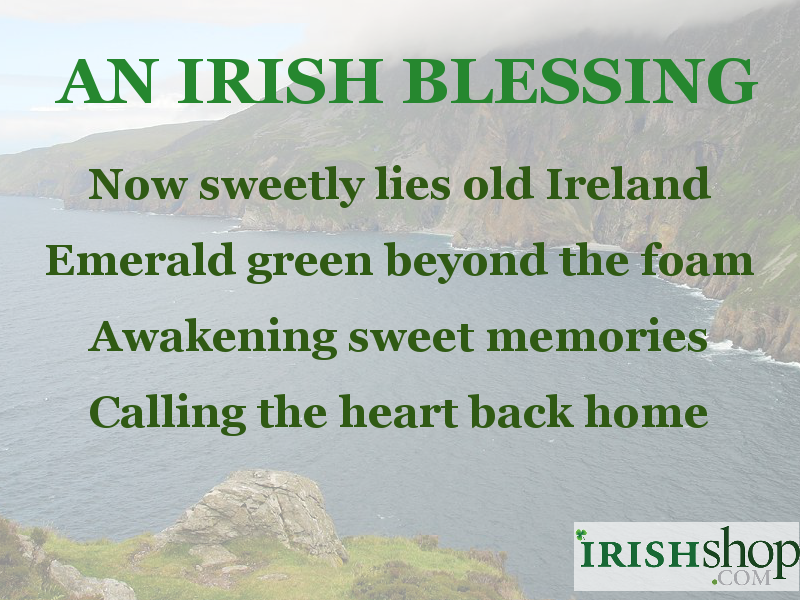 Now sweetly lies old Ireland
Emerald green beyond the foam
Awakening sweet memories
Calling the heart back home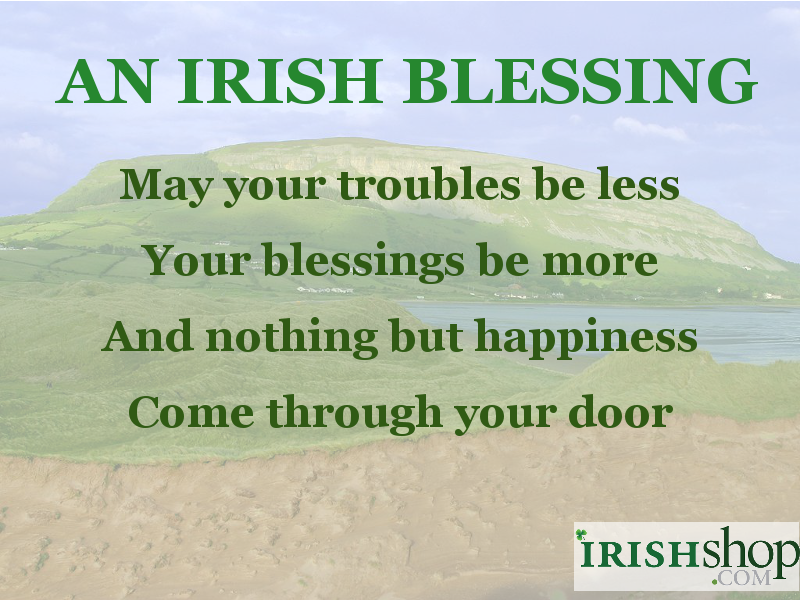 May your troubles be less
Your blessings be more
And nothing but happiness
Come through your door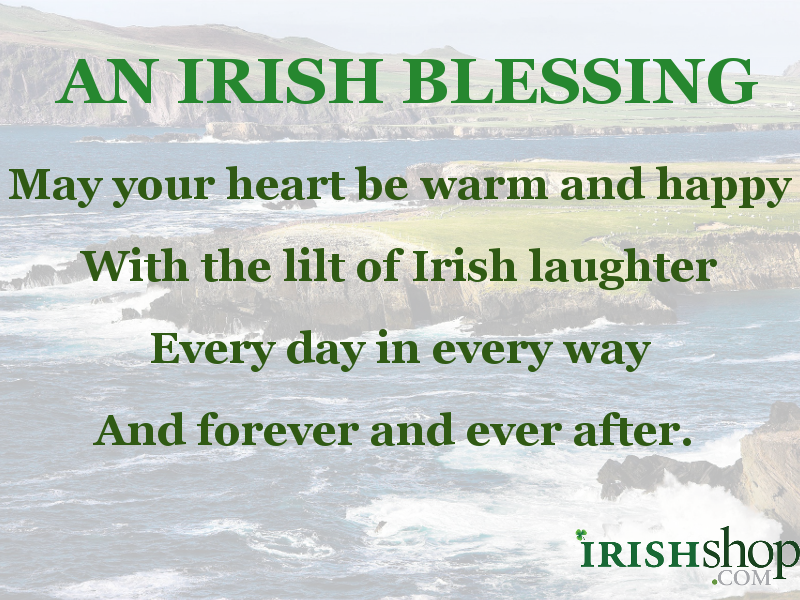 May your heart be warm and happy
With the lilt of Irish laughter
Every day in every way And forever and ever after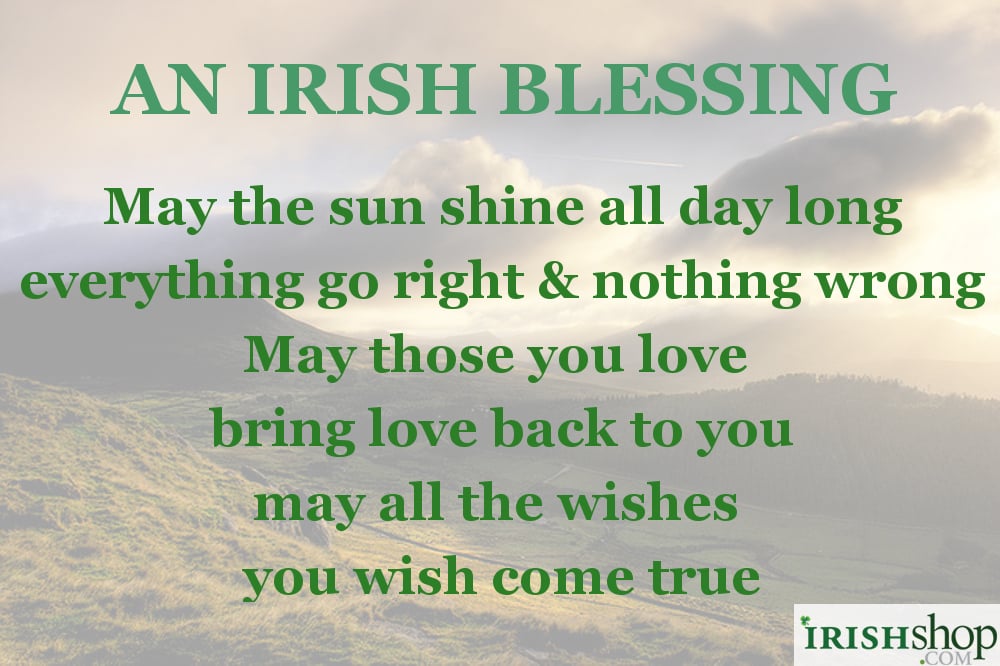 May the sun shine all day long
everything go right & nothing wrong.
May those you love bring love back to you
and may all the wishes you wish come true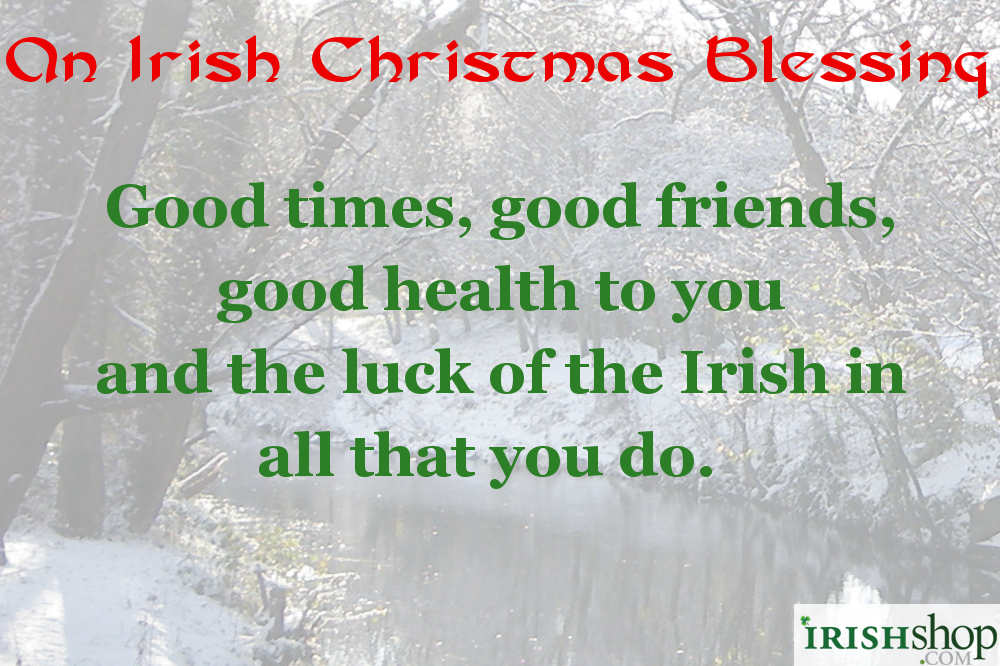 Good times, good friends, good health to you
And the luck of the Irish in all that you do.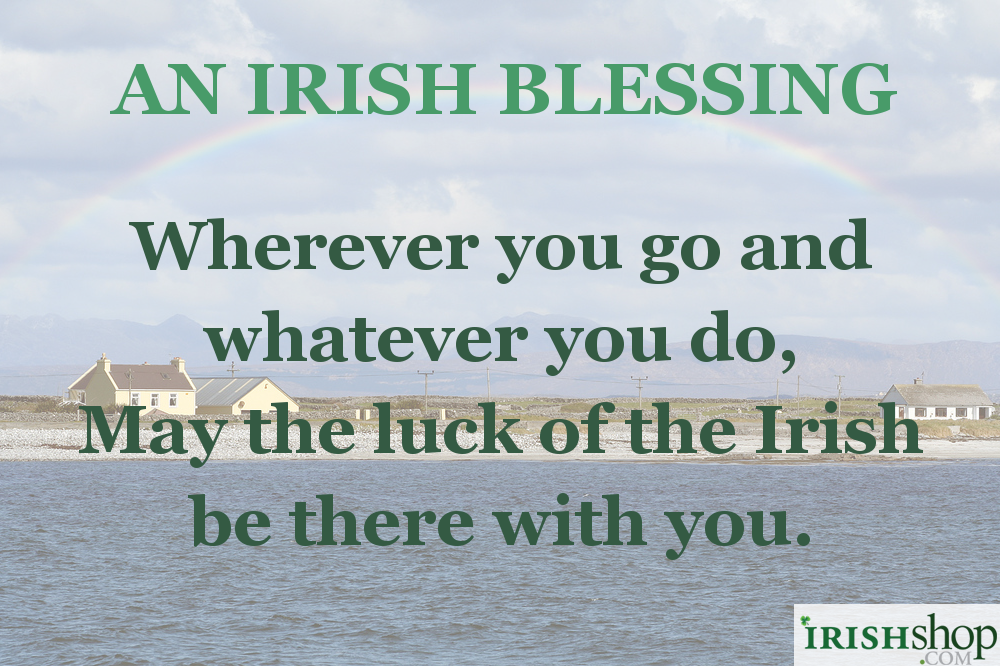 Wherever you go and whatever you do, May the luck of the Irish be there with you.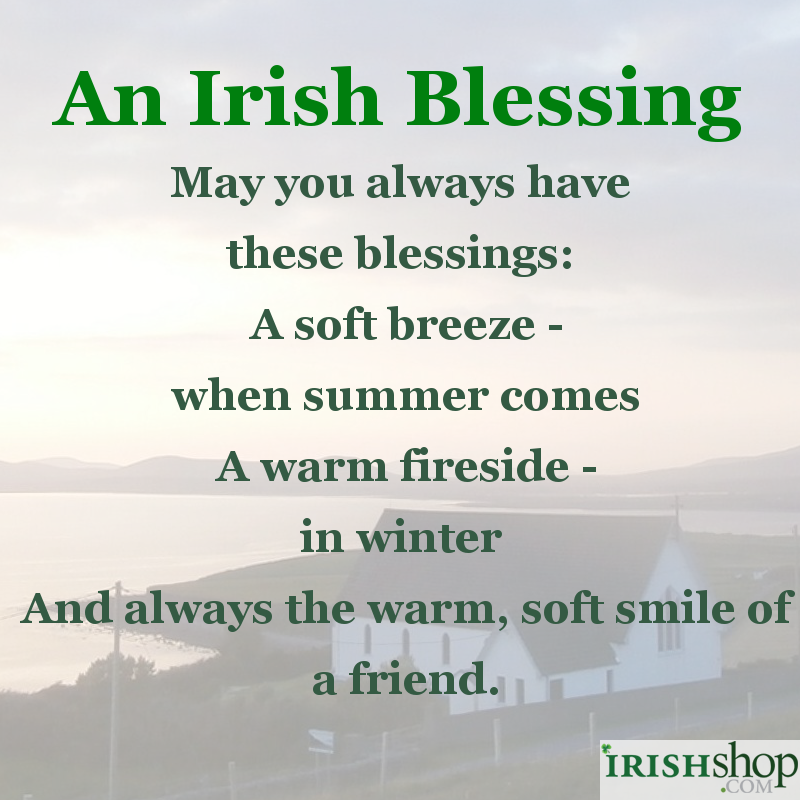 May you always have these blessings
A soft breeze - when summer comes
A warm fireside -in winter
And always - the warm, soft smile of a friend.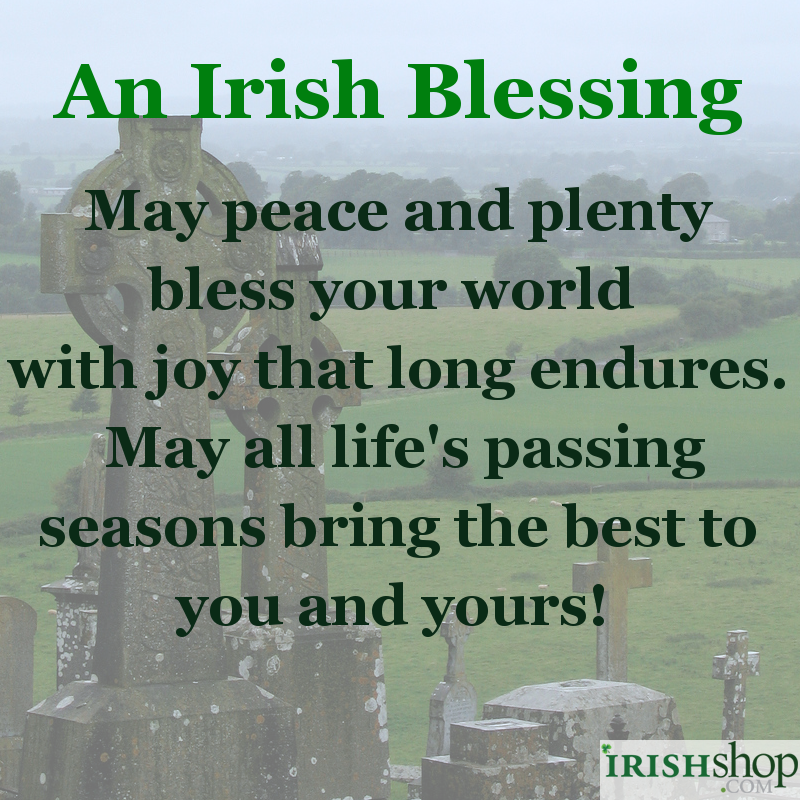 May peace and plenty bless your world with joy that long endures.
May all life's passing seasons bring the best to you and yours!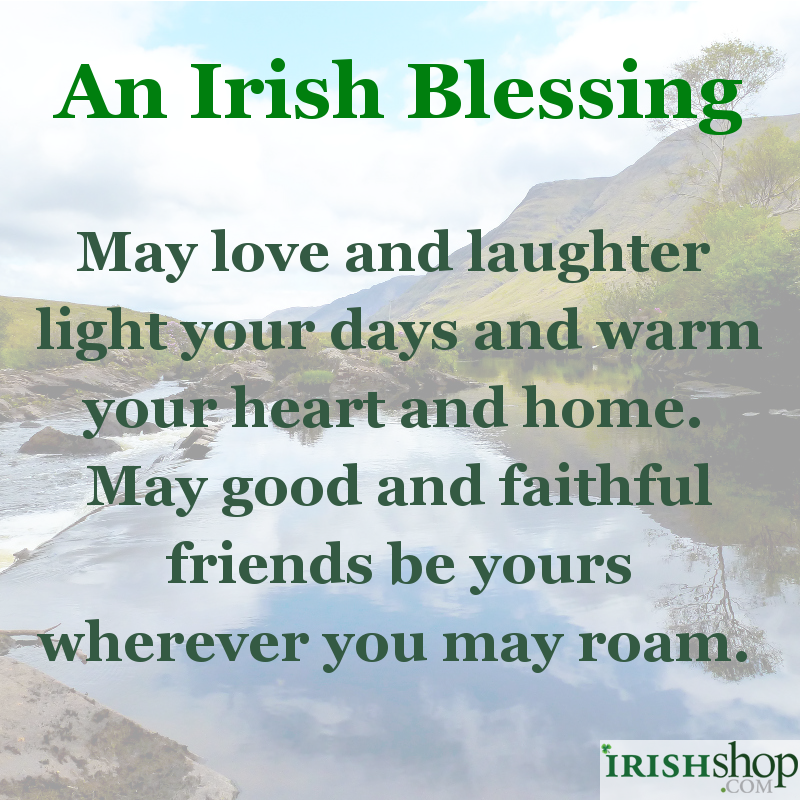 May love and laughter light your days and warm your heart and home.
May good and faithful friends be yours wherever you may roam.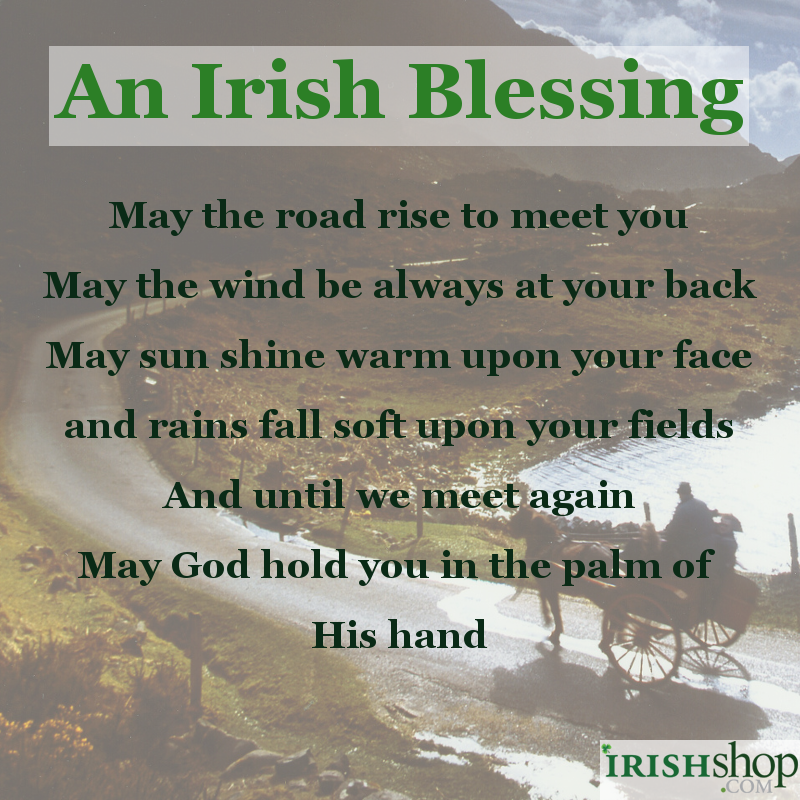 May the road rise to meet you.
May the wind be always at your back.
May sun shine warm upon your face & rains fall soft upon your fields.
And until we meet again, May God hold you in the palm of His hand.
Photo 'Gap of Dunloe' by Sean Tomkins available to purchase here http://www.irishshop.com/gap-of-dunloe-co-kerry-photographic-print.html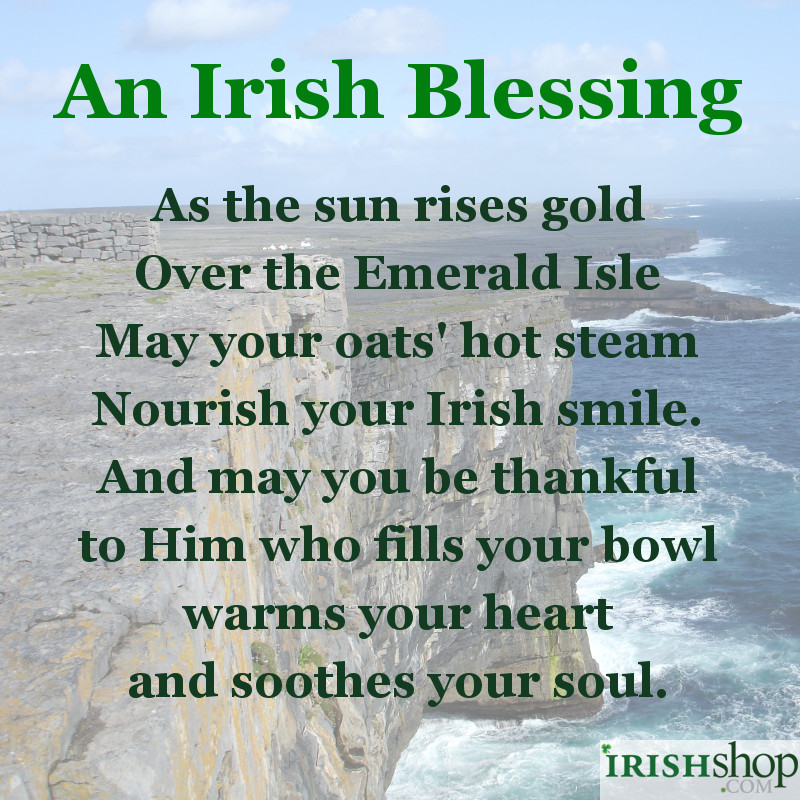 As the sun rises gold Over the Emerald Isle
May your oats' hot steam Nourish your Irish smile.
And may you be thankful to Him who fills your bowl, warms your heart, and soothes your soul.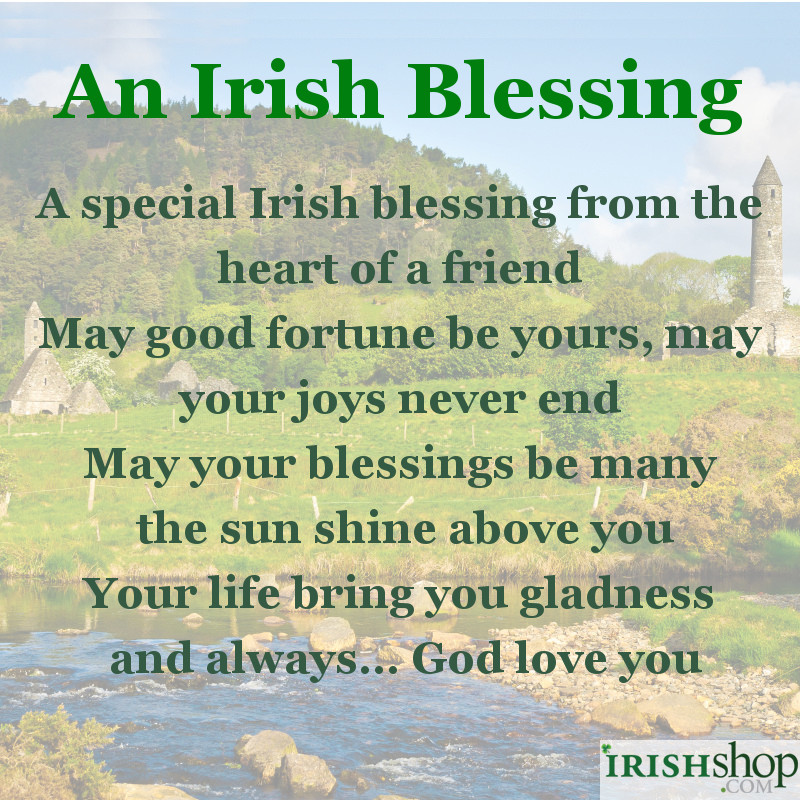 A special Irish blessing from the heart of a friend
May good fortune be yours, may your joys never end
May your blessings be many, the sun shine above you
Your life bring you gladness and always... God love you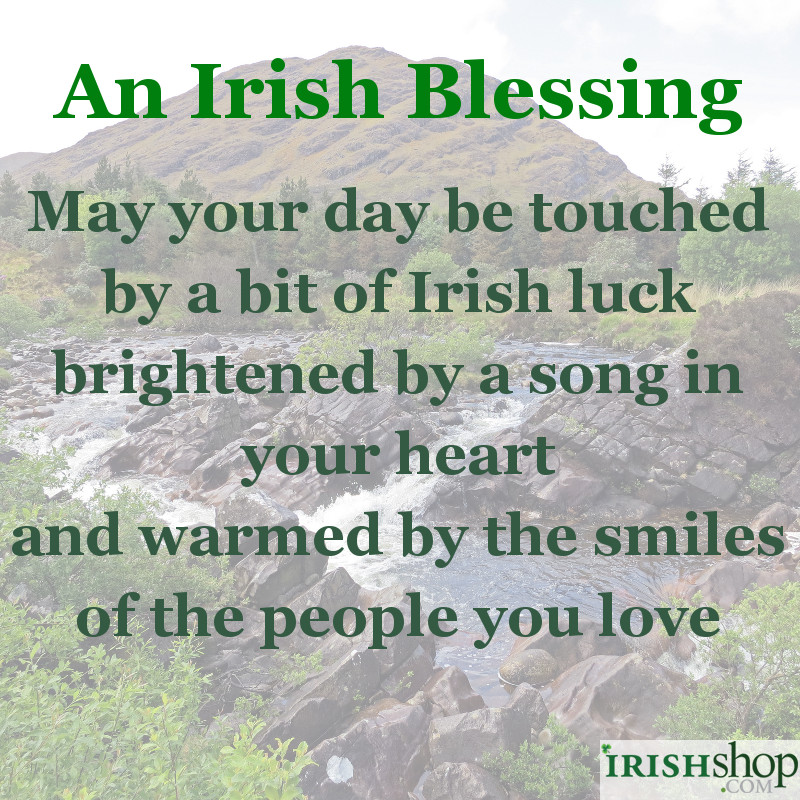 May your day be touched by a bit of Irish luck
brightened by a song in your heart
and warmed by the smiles of the people you love.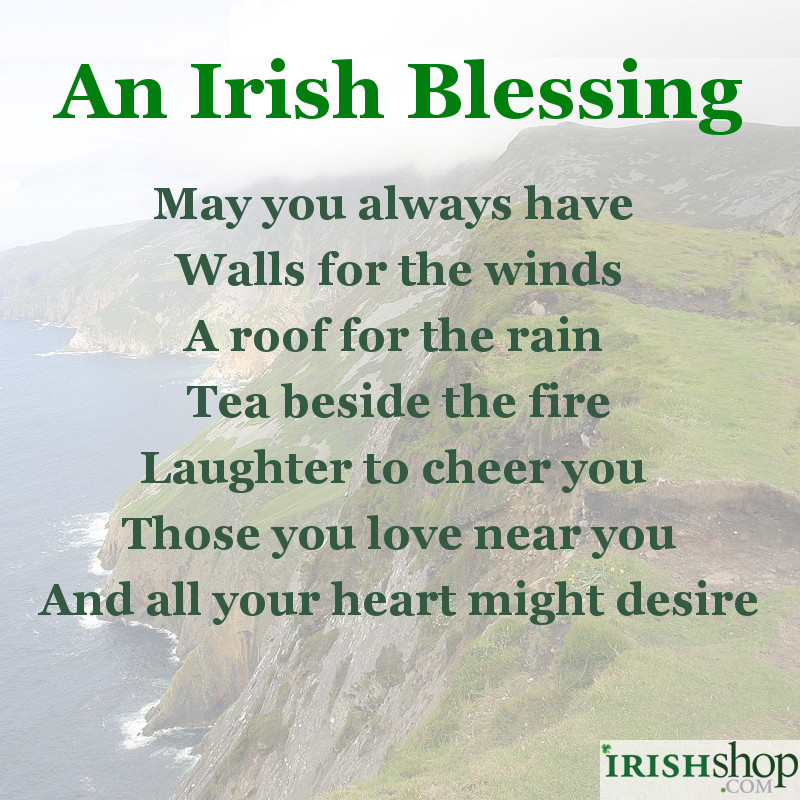 May you always have
Walls for the winds
A roof for the rain
Tea beside the fire
Laughter to cheer you
Those you love near you
And all your heart might desire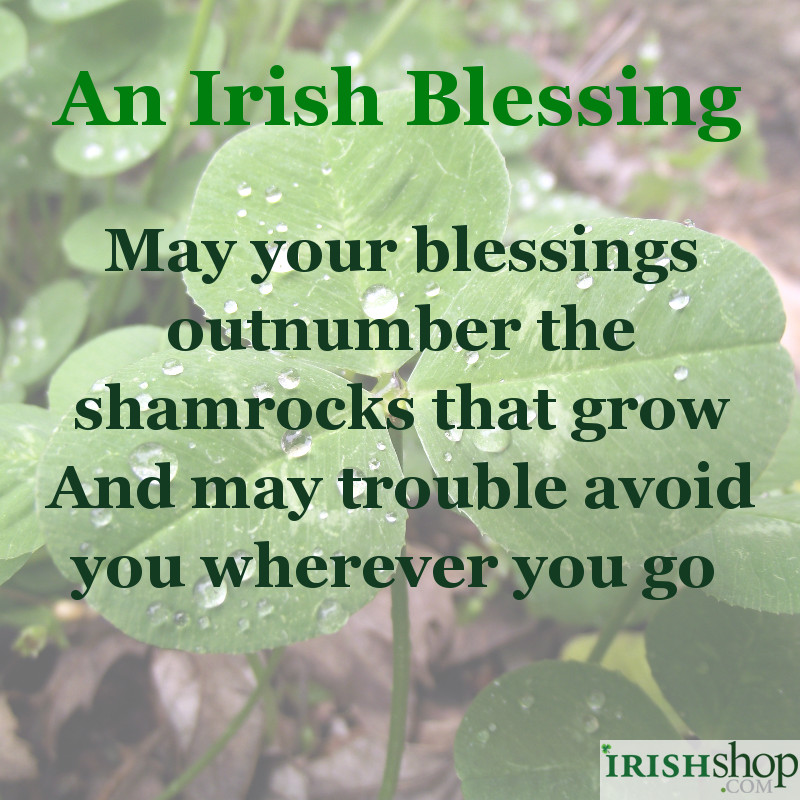 May your blessings outnumber
The Shamrocks that grow
And may trouble avoid you
Wherever you go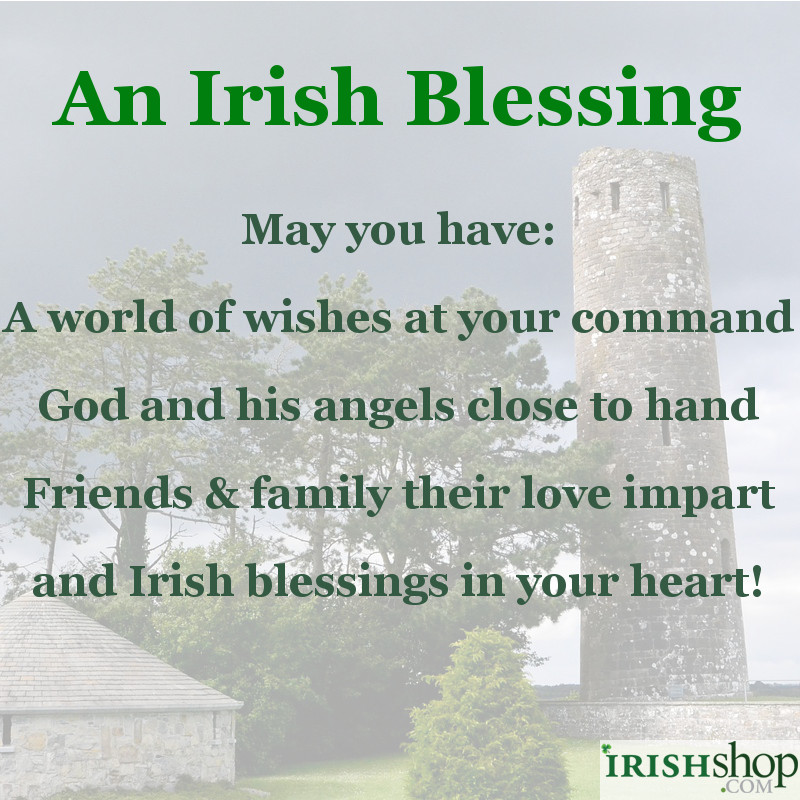 May you have:
A world of wishes at your command.
God and his angels close to hand.
Friends and family their love impart,
and Irish blessings in your heart!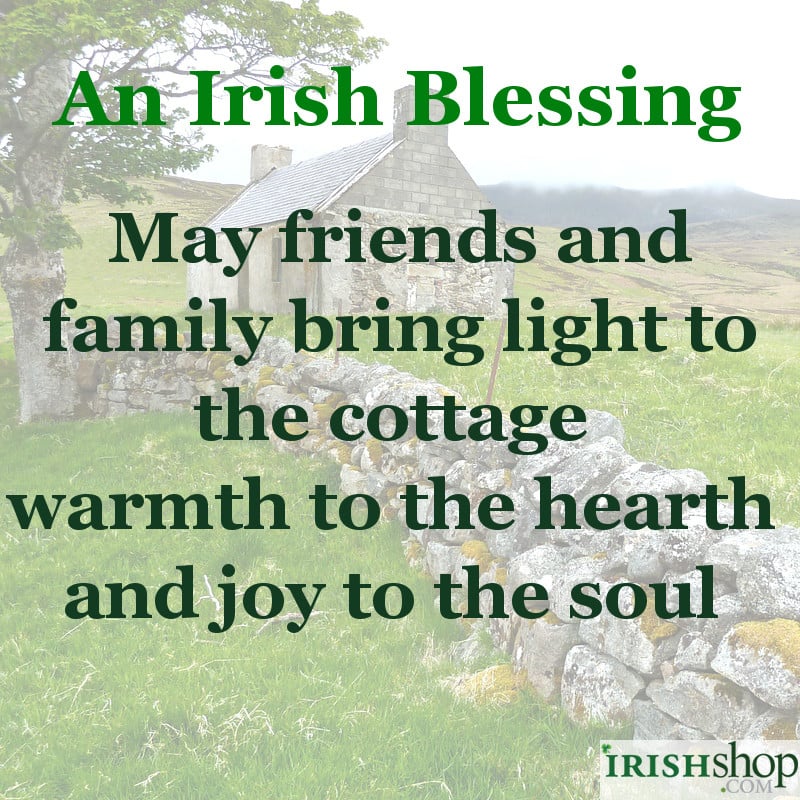 May friends and family bring light to cottage
warmth to the hearth
and joy to the soul.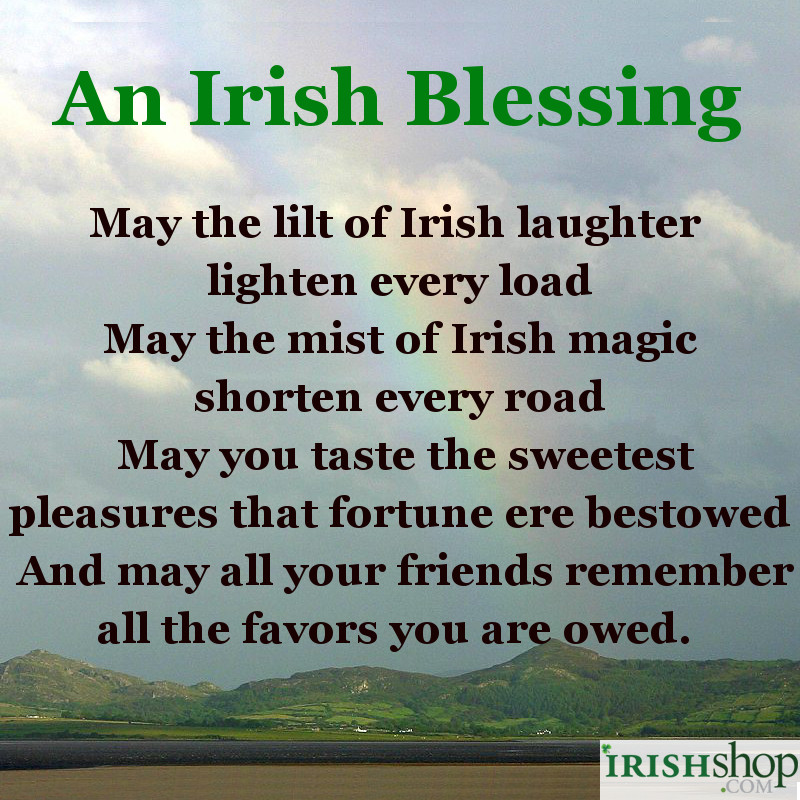 May the lilt of Irish laughter
lighten every load
May the mist of Irish magic
shorten every road
And may all your friends remember
all the favours you are owed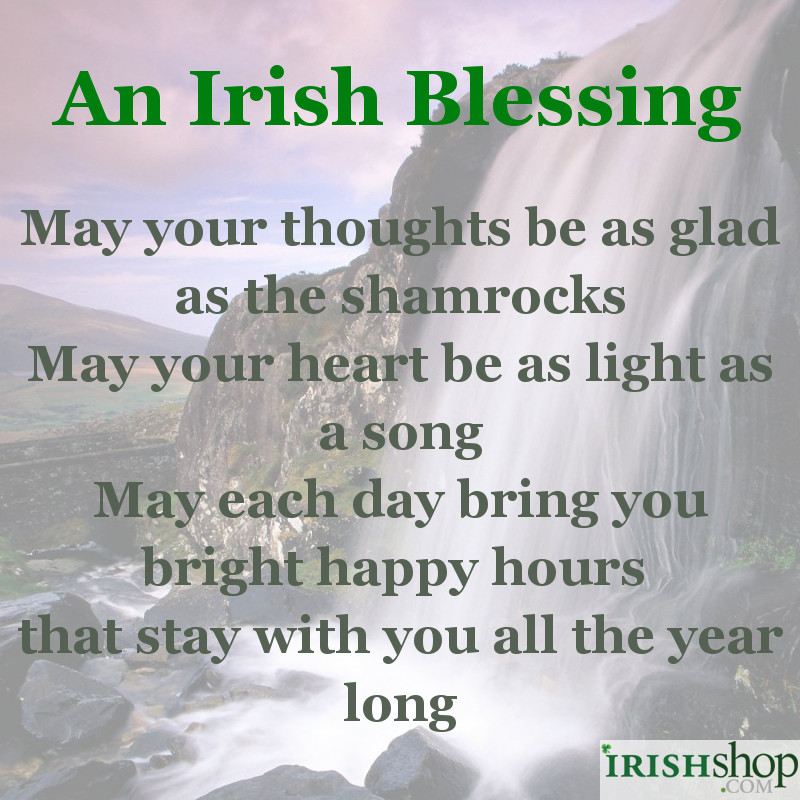 May your thoughts be as glad as the shamrocks,
May your heart be as light as a song,
May each day bring you bright, happy hours,
That stay with you all the year long.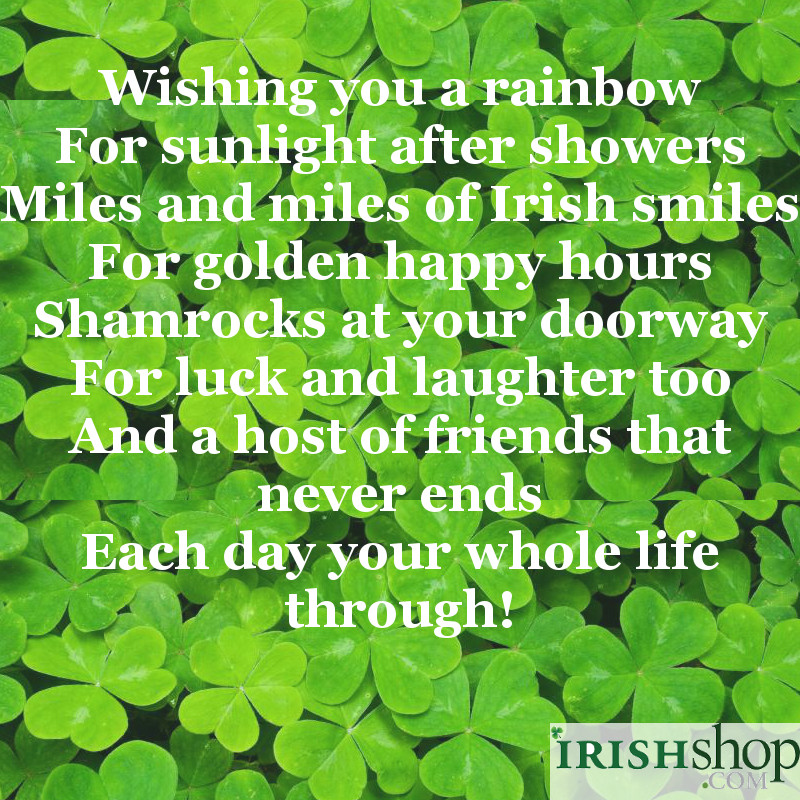 Wishing you a rainbow
For sunlight after showers
Miles and miles of Irish smiles
For golden happy hours
Shamrocks at your doorway
For luck and laughter too
And a host of friends that never ends
Each day your whole life through!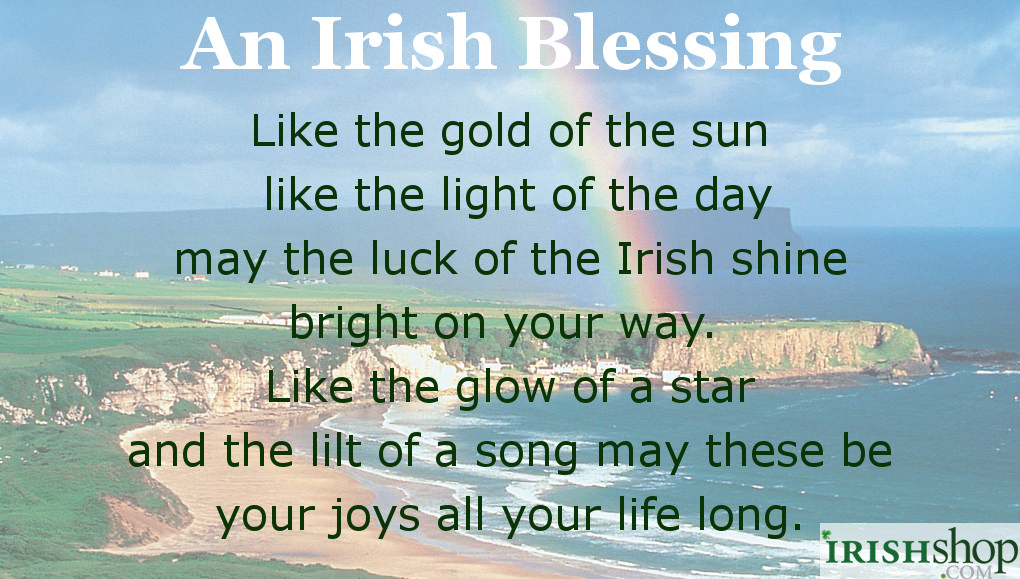 Like the gold of the sun like the light of the day may the luck of the Irish shine bright on your way.
Like the glow of a star and the lilt of a song may these be your joys all your life long.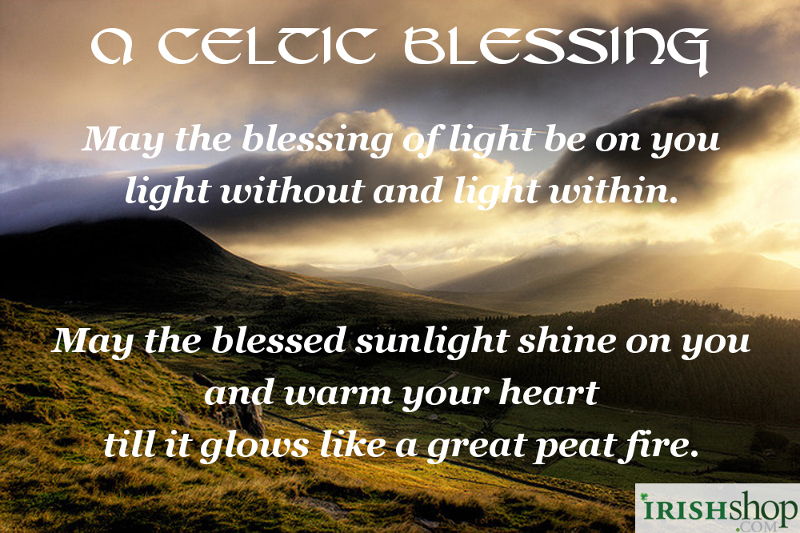 May the blessing of Light be on you light without and light within.
May the blessed sunlight shine on you and warm your heart till it glows like a great peat fire