Connemara Marble Irish Jewelry: A Green Gem from the West of Ireland
One of Ireland's 40 shades of green deserves a special mention. Connemara Marble Irish Jewelry, named for the region that stretches north along the Atlantic coast from Galway, is actually more than one shade of green. Its rich, earthy tones range from greyish to deep forest green, reflecting the landscape where it originates. This stunning marble is the result of natural forces exerting massive pressure on limestone below the earth's surface more than 500 million years ago. It's a metamorphic rock. Other substances merged into it in the process, creating the beautiful seams and veins that make each piece unique. No two Irish gifts made with Connemara marble are identical because of this.
Some believe Connemara Marble Irish Jewelry has a spiritual quality, bringing calm and serenity to those who wear it in jewelry or carry a small piece. That's not hard to believe because the colors are so soothing, and it does come from one of the most relaxing places in Ireland. Polished, its surface is smooth and cool to the touch. Of course, many of us find great comfort in having something ancient from our ancestors' homeland.
See our unique range of Connemara Marble Irish Jewelry HERE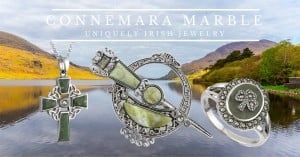 What Makes Connemara So Magical?
No doubt this corner of Ireland is a special place, unlike anywhere else. At first glance, it might seem almost barren and deserved, but nestled in the rugged countryside are communities of artists, writers and musicians. Inspired by nature, many here create all sorts of amazing Irish gifts from jewelry to knitwear to paintings to musical instruments. It's a haven for anyone who yearns to escape the rat race and urban life, in general, to be close to nature's raw forces. The winds are powerful and relentless. The surf batters the shore below towering cliffs. Here, nature demands your attention, calling louder than anything on social media or television.
Connemara is the place to see Ireland's soul.
The west coast of Ireland is the very edge of Europe. While it boasts the modern city of Galway and the elegant architecture and gardens of Kylemore Abbey, the soul of the region is wild. It's nature untamed and unmuzzled. It might not be easy to find your way around Connemara, but it is an excellent place to get lost and explore.
No doubt this sense of magic and wildness is why Irish gifts made with Connemara marble are so special and so enduringly loved. Whether it is a big, bold pendant or delicate earrings or a regal Tara brooch, Connemara marble Irish jewelry makes a statement. It forges a connection, letting you literally wear a piece of Ireland's rich history. Paired with a classic Celtic motif such as a Tree of Life, St Brigid's Cross or Celtic knotwork, it says clearly that your soul feels at home in Ireland. Of course, it is a natural match with the Claddagh, which has roots in Galway city. However and whenever you wear Irish gifts with Connemara Marble Irish Jewelry they can indeed give you a sense of calm and connection.