Galway is the source of many stunning Irish gifts including Claddagh rings and Connemara marble jewelry. From craftspeople throughout the rugged Connemara region to Galway city's thriving music and drama scenes, it is alive with creativity. It's also one of Ireland's favorite destinations for tourists from near and far. So what makes Galway so wonderful? What is at the heart of its identity?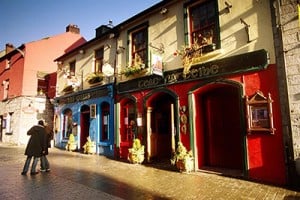 Being on the coast is important. Galway Bay is one of the most beautiful places on earth. It's no mystery why it inspires creativity. This is the same rugged Atlantic that is home to the Aran islands and their enduring traditional knitting techniques. As a port, Galway has always been exposed to new people and new ideas, feeding innovation in all areas. The bay is right at the edge of Galway city, a short stroll from the thriving pubs, clubs and shops. Galway hooker boats with their famous red sails can still be seen here, along with other fishing and leisure boats. Ireland has many stunning coastlines, but Galway Bay is something extra special.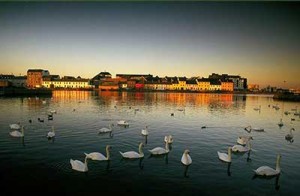 The city center is still hugged by some remaining sections of the ancient city wall. You'll have to look for it, but finding it in the shopping center is a powerful reminder of Galway's long history. The famous Spanish Arch is an extension of the wall, built centuries later. The name is a nod to Galway's once thriving trade with Spain, which was ended by Cromwell.
Long History of Creativity Lead to Most Popular Irish Gifts
Some of the most popular Irish gifts have roots in Galway, and each one has a story behind it. Aran sweaters were designed to be warm, and their intricate stitches showcased their makers' creativity. Each family designed their own patterns so that if someone fell overboard and their remains washed ashore, they could be easily identified. Those sweaters are also evidence of Galway's connection to Spain. They are usually made with Merino wool, and Merino sheep originated in Spain. Records suggest they were introduced to Galway in the 1800s.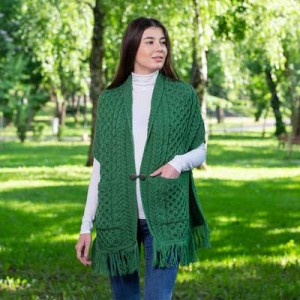 Connemara marble is stunning. Jewelers and craftspeople are eager to use it in all kinds of products because it is unique and simply gorgeous. And of course, the Claddagh ring and the love story behind it are now embraced around the world.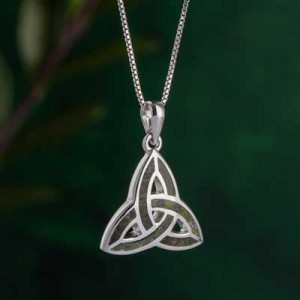 Lady Gregory, aka Isabelle Augusta, was a native of County Galway. In addition to co-founding Dublin's Abbey Theatre with WB Yeat and Edward Martyn, she was a leading light of the cultural and literary revival and a noted folklorist. James Joyce's wife Nora Barnacle was from Galway City. Joyce set Ulysses on the date of his first date with her – June 16, 1904- and now it is celebrated as Bloomsday.
Modern Galway features a thriving performing arts scene with lively pubs playing traditional music, the esteem Druid theater and the innovative performance troop Macnas. It's the perfect place to stroll and shop, eat and drink, and soak in the atmosphere. You might even feel inspired to try a new craft or art yourself!